Previous Speakers

Francesco Lipp
Director of Thyroid Diseases Center University of Pisa Italy Italy

Asnat Raziel
Director of the Israeli Center for Bariatric Surgery University of Minnesota Israel

Hikmat Fayez Matar
Consultant Lap & General surgeon, Director of Bariatric Surgery at LCMC UAE United Arab Emirates

Haleama Al Sabbah
Associate Professor, Chair of Health Sciences Department Zayed University United Arab Emirates
Recommended Global Obesity Webinars & Conferences
Asia Pacific & Middle East
Chronic Obesity 2021
About Conference
After successful completion of the chronic obesity 2020 conference, Conference Series LLC Ltd welcomes you to attend the"4th International Conference on Obesity and Chronic Diseases", which is going to be held during the July 29-30, 2021 Paris, France. The conference focused on theme "Prevention and advanced treatment for obesity and chronic diseases".
Brochure: Click here
The Chronic Obesity 2021 conference invites all the renowned scientists, Diabetologists, Endocrinologists, Surgeons, Pediatricians, Yoga and Natural Therapists, General Physicians, Primary Health Care Specialists, Epidemiologists. The International Conference on Obesity and Chronic Diseases will be a unique chance for High-quality scientific program with the series of talks, poster presentations, workshops, discussions, and networking events will keep participants engaged in learning and making new connections at Chronic Obesity 2021
Registration: click here
The early bird Registrations dates for the upcoming "4th International conference on Obesity and chronic diseases" is going to be closed on or before January 10, 2021.
Abstract submission: click here
Interested speakers can submit your abstract along with your biography and photograph. Abstract should be containing the 250-300 words and you can directly submit your abstract in our website. Speakers can choose topic from our scientific sessions or you can even present on your own research in respective field.
Target Audience:
Metabolic & Bariatric Surgeons
Basic Clinical Research Scientists & Students
Registered Dieticians & Nutritionists
Physicians
Diabeticians
Industry Professionals
Health Promoters
Pharmacists
Medical Colleges
Integrated Health Professionals
Dieticians and Nutritionist
BMI Training Institutes
Diabetes Educators
Physical Therapists
Yoga & Fitness Professionals
Obesity & Endocrinology Associations and Societies
Business Entrepreneurs
Public Health Professional
Sessions/Tracks
Obesity increases the chances of developing a common type of diabetes, Type 1 diabetes, and Type2 diabetes. Diabetes mellitus is the leading reason for end-stage kidney diseases and blindness, non-traumatic lower extremity amputations (diabetic neuropathy) in working-age adults. People who are suffering from diabetes two to three times more likely to experience cardiovascular complications and strokes.
Obesity is among the leading causes of elevated disorder (Cardiovascular Diseases) mortality and morbidity. within the present study, the associations between the rise in body mass index (BMI) and therefore the increased rates of Cardiovascular Diseases and high vital sign (HBP) are examined using multivariate analysis and by means of neural network models for obesity and high blood pressure. Maintaining a healthy weight helps reduce the risks of developing Cardiovascular Diseases. It may also lead to hypertension, arterial aneurysm, and heart failure and may also lead to kidney failure.
Hypertension
Coronary artery disease
Atherosclerosis
Dyslipidaemia
Inflammation in cardiovascular disease.
Overweight and obese kids are the result of hereditary applications and other environmental factors. The child would be going to remain hefty in adolescence and affected with further complications like diabetes, cardiovascular diseases, and others by the pattern of Physiology and genetic history of the child.
Comorbidities of Obesity in the Young
Nutrition plays an important role in order to control obesity in human beings. Good nutrition, physical activity, and healthy body weight are essential components of a person's health and well-being. The most common cause of obesity and overweight is the consumption of excessive fat-containing food and lack of food intake. The fat burning foods consist of red pepper, whole grains, low-fat dairy products, lean meats, green tea, etc.
Bariatric surgery is also known as weight loss surgery includes a different types of procedures performed on who are suffering from obesity. Some common side effects of weight loss surgery include infection, nutritional shortages, gallstones and chronic nausea and vomiting. The Bariatric surgery is an effective way to improve many health problems related to obesity, such as type two diabetes, hypertension, cholesterol levels and sleep apnea. There are many different types of weight-loss surgeries are available.
Sleeve Gastrectomy
Duodenal Jejunal Bypass with Sleeve Gastrectomy
Duodenal Switch.
Revisional Surgery
Laparoscopic Adjustable Gastric Banding
Obesity is associated with an increased risk of pregnancy complications such as miscarriage stillbirth, and recurrent miscarriage. Gestational diabetes the major risk factor for obese pregnant women is difficulty during vaginal delivery and the risk of miscarriage and a very high need for cesarean section and involves risk complications like C-section wounds and infections.
Premature births
Gestational diabetes
High blood pressure
Cardiac dysfunction
Metabolic syndrome
Anti-Obesity Drugs includes all the pharmacological treatments intended to reduce or control weight with fewer side effects. Anti-Obesity drugs can be classified into the according to the three main categories according to their mode of action and which are Drugs inhibiting intestinal fat absorption, Drugs suppressing food intake, Drugs increasing energy consumption, and thermogenesis.
Obesity is a chronic disease, which is affecting mostly children, adults, and adolescents. Most of the people become overweight or obese because they don't get enough physical activity in combination with poor eating habits. It also deals with weight management in children and adults by regular assessment supported body mass index (BMI) and to assess underlying causes, risk factors, and comorbidities of obesity. Management of obesity includes lifestyle changes, medications also as surgery. The treatment for obesity consists of physical activities and dieting.
Chronic disease is a human health condition that's constant or otherwise lifelong in its effects or a disease that arises with a period. The word chronic is usually used when the course of the disease lasts for over three months. Many such chronic diseases which are associated with obesity are
High B.P
Atherosclerosis
Cardiovascular disease
Gall bladder disease
Type 2 diabetes
The obesity as defined by body mass (BMI) body mass index of 30 or higher, the risk of various type of cancer has received considerable amount of attention in recent years. The Obesity has associated with an increased risk of esophageal cancer, pancreatic cancer, colorectal cancer, breast cancer (among postmenopausal women), endometrial cancer, kidney cancer, thyroid cancer, liver cancer and gallbladder cancer. Obesity may also lead to increased cancer-related mortality.
Obesity patients have multiple genes that predispose them to gain excess weight. One such gene is the fat mass and obesity-associated gene, increased caloric intake, reduced satiety, and reduced control overeating, increased tendency to be sedentary, increased tendency to store body fat. Obesity is often cured by various medical also as physical therapies. These include gastrointestinal surgery, bariatric surgery, etc. There are a variety of surgeries began to cure obesity.
Low-fat diets are the best dietary approach to weight loss or obesity. Replacing red and processed meat with nuts, beans, fish, or poultry seems to lower the risk of heart disease and obesity. Diet is the term that relates the caloric intake over a particular time. A proper diet should be consists of balanced nutrition with fewer calories. Very low-calorie diet - A very low-calorie diet (VLCD) is a diet that involves consuming less than 3350 kilojoules (800 calories) per day and fewer intakes of food containing saturated fat, added sugars, and alcohol
Atkins diet
Ketogenic diet
Vegetarian diet
Ayurveda medications are safe and holistic methods for the management of overweight with no side effects. Naturopathic medicine is defined as a rational, drugless, and evidence-based system of drugs imparting treatments with natural elements supported by the theories of toxemia vitality and healing capacity of the body.
Current Research on obesity are emerging hormonal-based combination pharmacotherapies for the treatment of diabetes and metabolic diseases, Predictors of weight status in school-aged children, novel adiposity index as an integrated predictor of cardio metabolic disease morbidity and mortality, and Long term but not short term exposure to obesity-related micro biota promotes host insulin resistance.
Unmanaged chronic disease or stress can have harmful effects on the physical and psychological health of people like obesity, diabetes, Endocrine, hormonal disorders. Many of us start yoga due to depression, hypertension, a heart condition, drug abuse, obesity, and gastrointestinal disorders. Through yoga, people are becoming drastic changes within the health system. Fitness programmes and diet should be planned regularly for controlling overweight, which is science-based and related to yoga-specific asana, cardio exercise, breathing exercise and meditation.
Physical work outs
Healthcare and Mental Health
Reducing distress
Therapeutic Lifestyle Changes
Market Analysis
Importance & Scope
The Obesity and Chronic Diseases Conference is to promote Awareness on the Chronic Health Complications caused by Obesity and to generate knowledge on Prevention and Management for a Curative and Healthy Future.
The conference is expected to present an outstanding spectrum of research from different countries bringing together a collective solution to obesity and chronic diseases. Chronic Obesity 2021 will be of interest to anyone concerned in learning, sharing talks, and experiences regarding obesity and chronic disease like diabetes, cancer, etc. Chronic Obesity 2021 conference invites all the Metabolic and Bariatric surgeons, dieticians, Physical Therapists, clinical research scientists, Health care professionals from Different Regions Together, and share their Valuable Ideas and Researches in the field of Chronic Obesity and Bariatric.
Global Bariatric Surgery Market
The bariatric surgery market is primarily driven by the high prevalence of obesity cases across the world. The rising awareness among the obese population about bariatric surgery and devices, availability of specialized surgeons in bariatric surgical techniques, and availability of less incisive methods for bariatric surgeries are all major factors expected to propel the expansion of the worldwide bariatric surgery market. The high cost of bariatric surgery is the major constraint for market growth.
According to Verified marketing research, Global Bariatric Surgery Market was valued at USD 1.8 Billion in 2018 and is projected to succeed in USD 3.7 Billion by 2026, growing at a CAGR of 8.83% from 2019 to 2026.
Global Weight Loss and Weight Management Market
The global Weight Loss and Weight Management Market was valued at USD 254.11 billion in 2016 and is projected to reach USD 432.97 billion by 2025, growing at a CAGR of 6.1% from 2017 to 2025. With major changes in the lifestyle of people all over the globe, there is an increase in cases of obesity and diseases. There is more awareness regarding fitness and health parameters forcing people to choose weight and diet management programs.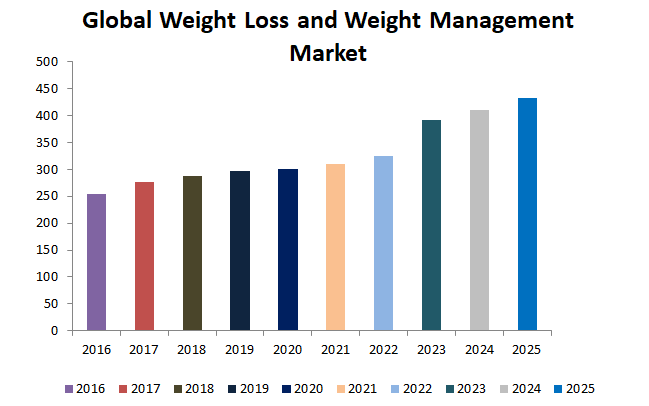 Major Universities Associated with Chronic Obesity Research across the Globe
Harvard University
Princeton University
Swarthmore College of University
Massachusetts Institute of Technology
The College of William and Mary
Williams College of University
Amherst College of University
University of Tokyo
National University of Singapore
University of Hong Kong
Amylin University
Alizyme University
Boehringer Ingelheim
Eisai University
Merck University
Pharmaceutical Companies and Industries in Zurich
Novartis (Sandoz)
Hoffmann-La Roche
Basilea Pharmaceuticals
University of KwaZulu-Natal, South Africa
Rhodes University, South Africa
University of Pretoria, South Africa
Cairo University, Egypt
Top Universities in the world
Stanford University
Johns Hopkins University
University of California, Los Angeles (UCLA)
University of California, San Francisco (UCSF)
UCL (University College London)
Yale University
University of Oxford
Cambridge university
Top Universities in Paris, France
Paris Sciences et Lettres Research University
École Polytechnique (ParisTech)
Sorbonne University
Sciences Po Paris
École des Ponts ParisTech
University of Paris
Université Paris 1 Panthéon-Sorbonne
ENS-Paris Saclay
Paris-Saclay University
Panthéon-Assas Paris II University
Paris Nanterre University
University of Bordeaux
Université Côte d'Azur
University of Strasbourg
List of Related Societies
Europe
European Association for the Study of Obesity Nutrition & Metabolic Diseases, Romania European Society for Pediatric Research (ESPR), International Diabetes Federation, Association of Diabetics Central European Diabetes Association, Belgian Nutrition Society, Belgium International Confederation of Dietetic Association's France.
Asia-pacific
Canadian Obesity Network , Australian Psychological Society, Asian Association for the Study of Diabetes, Diabetes Association of the Republic of China, The Korean Nutrition Society, Society of Diabetes Asian Society for Neuro-Oncology, Japan, British Obesity Society, The Nutrition Society of India, International Federation for the Surgery of Obesity and Metabolic Disorders (IFSO).
Middle East
International society of Endocrinology, Spanish society of Endocrinology, Pan Arab Society of Metabolic and Bariatric Surgery (PASMBS), Obesity and Metabolic Surgery Society, Annual Gulf Obesity Surgery Society, The Nutrition Society, Paediatric Endocrine Society, Metabolic and Endocrine Society, Iran endocrine society, Israel society for Paediatric Endocrinology, Israel society of Research, Egyptian Association of Endocrinology, Egyptian Society of Endocrinology and Obesity
USA
American Society for Nutrition USA, National Eating Disorders Association, USA National Association of Nutrition Professionals USA , American Association of Nutritional Consultants, USA, The International and American Associations of Clinical Nutritionists (IAACN), USA , National Association of Nutrition and Aging Services Programs.
Related conferences
14th International Conference on Childhood Obesity & Nutrition, March 15-16, 2021
17th Euro Obesity and Endocrinology Congress, July 05-06, 2021 Valencia, Spain
4th Middle East Obesity, Bariatric Surgery and Endocrinology Congress, June 14-15, 2021 Dubai, UAE
14th International Conference on Childhood Obesity & Nutrition, March 15-16, 2021, Berlin, Germany
15th European Diabetes and Endocrinology Congress, April 26-27, 2021 London, UK
Past Conference Report
Chronic Obesity 2020
The renowned scientists, Dialectologists, Endocrinologists, Surgeons, young researchers, students from different countries actively participated in the Conference, discussed the most important trends and issues in analytical sciences.
Chronic Obesity 2020 has taken the privilege of felicitating Keynote Speakers Dr. Prakash Kondekar, Hon Director, Indian Institute of Naturopathy, India and Dr. Saleem Arif, Surgical Trainer & Consultant General Surgeon, the United Kingdom on July 16 respectively whose attempts made the social occasion to move in the method for achievement. We were indebted by your presence.
The eminent personalities at the conference were
Dr. Gede Eka Rusdi Antara | Consultant of Digestive Surgeon | Indonesia

Dr. Adhi Keswara | Consultant of Digestive Surgeon | Indonesia

Dr. Ravikumar Ravindran | Consultant in Diabetes and Endocrinology, | United Kingdom

Dr. Ujjwala | Registered Dietitian | Certified Diabetes Educator, Founder - Poshan Cure thru Diet | Singapore

Dr. Abhishek Shrivastava | Endocrinologist, Research Excellence Award for his study on hypogonadism | India
We would like to convey our sincere gratitude to all the Keynote Speakers, Honorable guests, Valuable Speakers, Students, and delegates.
With the unique feedbacks from the Conference Chronic Obesity 2020, ME Conferences extends a warm welcome to the "4th International Conference Obesity and chronic diseases", which is going to be held on July 29, 2021, at Paris, France.
Mark your calendars for the upcoming Conference; we are hopeful to see you soon!
More Info: https://chronicdiseases.conferenceseries.com/
Whatsapp at: +44 7723584478
Past Reports
Gallery
To Collaborate Scientific Professionals around the World
Conference Date July 29-30, 2021
For Sponsors & Exhibitors